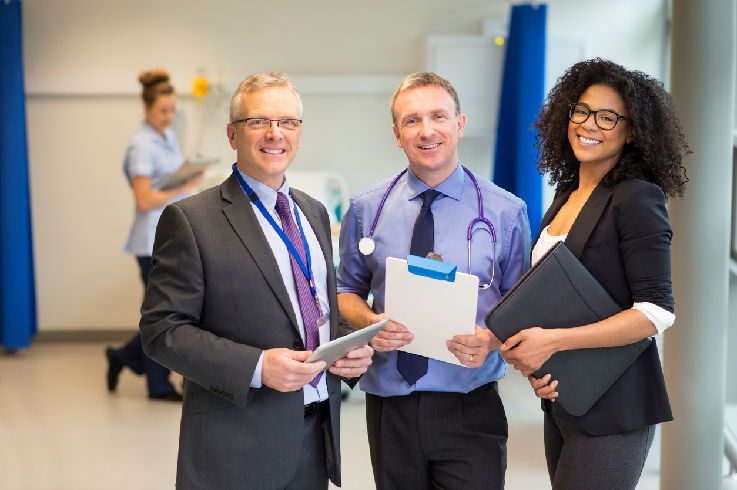 The career outlook for online Master of Healthcare Administration students is bright. According to the Bureau of Labor Statistics, healthcare administrators or medical and health services managers earn a national average of $96,540 per year. And, their employment is projected to grow 20 percent between 2016 and 2026, a rate that's much faster than average.
In Missouri, the mean annual wage is even higher, at $101,980 per year.
There are several factors influencing pay for healthcare administrators in addition to experience and education. According to PayScale.com, healthcare administrators with the highest salaries tend to have the following skills:
Strategic Planning: Healthcare administrators play an important role in developing an organization's strategic plan to create a pathway toward long-term sustainability and growth. By encouraging modern business practices and involving internal and external stakeholders in the planning process, they are able to anticipate and respond to various market forces from changes in healthcare regulations to the industry's technological advances.
Strategic Project Management: Healthcare administrators are often involved with overseeing day-to-day operations associated with strategic projects that align with the organization's business goals. Some examples include facility expansion projects, capacity building, projects related to improving the quality of care, and more.
People Management: Managing talent shortages spurred by the growing demand for healthcare services requires that healthcare administrators have a solid understanding of HR best practices including hiring, training, retention, evaluation, etc.
Data Analysis: With the growing digitization of medical records and collection of patient data, healthcare administrators are increasingly relying on analytical tools to inform decision-making. For example, the use of analytics can help inform new practices that improve overall business efficiency, reduce cost and create better clinical outcomes.
Communication: Healthcare administrators interact with a wide range of people from patients and healthcare professionals to investors and various industry leaders. Strong communication skills ensure that they can manage these relationships effectively, even when they may be at odds with each other.
At William Woods University, students earning an online Master of Healthcare Administration will develop leadership and administration skills, as well as hands-on training, to manage numerous realms of the healthcare industry. Students will learn to evaluate a healthcare facilities' culture and underlying structure to develop effective management and leadership strategies, thus increasing their competitiveness in the job market.