Katy Tynan, a leading expert in the evolution of work, recently wrote an article for the Society for Human Resource Management (SHRM) in which she explains why most new managers are not well prepared to take on a managerial role.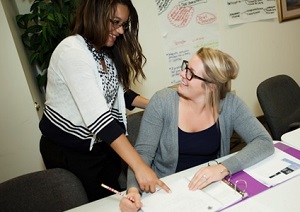 "New managers must understand that the habits that made them successful as individual contributors are not the same ones that will make them effective leaders," wrote Tynan.
For example, oftentimes new managers can get stuck on managing task completion rather than leading a team. Becoming a manager is about assuming a leadership role, which takes a different set of skills that go beyond task management. Tynan points to a few:
Leaders have a vision that they know how to communicate to their team;
Leaders rely on shared expertise of the team, rather than trying to be an expert at everything;
Leaders connect project goals with larger organizational or team objectives;
Leaders nurture a culture of learning from one's mistakes rather than assigning blame;
And leaders build trusting relationships with their teams.
For many new managers, shifting to a leadership role may be easier said than done. That's why it's important for employers to invest in leadership training. If such opportunities are not available, new managers must take charge of their own professional development.
According to an article in Public Administration Review, a professional journal in the field of public administration, "a combination of coaching, classroom instruction, feedback, and experiential training has a significant impact on leader performance."
At William Woods, students earning an MBA in Entrepreneurial Leadership are trained for the challenges that come with management positions. Courses such as BMT517 – Human Resources & Organizational Behavior offer an understanding of the big picture behind organizational dynamics and executive leadership.
Other courses, such as BMT524 – Economics for Managers and BMT538 – Accounting for Managers offer a more focused look on practical issues confronting managers on a day-to-day basis.