Recently, there has been a lot of discussion about the insurance industry and its impending shortage of talent caused by large numbers of baby boomers nearing retirement. And while the insurance business has traditionally provided stable, well-paid positions, millennials have been less eager to embrace these opportunities.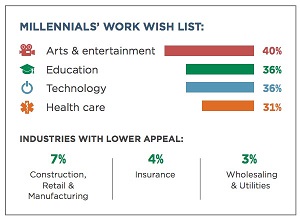 A 2015 survey by The Hartford showed that only four percent of millennials are interested in working in the insurance industry. More popular careers were in arts and entertainment, education, technology and health care.
Why aren't millennials interested in insurance jobs?
A 2016 NPR Morning Edition segment with host Renee Montagne, discussed this issue pointing to overall perception among millennials that insurance jobs are not exciting and lack room for creativity — something that the industry hopes to change in the near future.
In fact, earlier this year, the Insurance Journal published an article on how the insurance industry is rethinking recruitment strategies. Some examples include:
Making a greater effort to educate potential candidates about careers in insurance and address any misconceptions they may have head on
Increased use of technology during the interview process such as video conferencing and greater emphasis on peer to peer interviews so millennials can get a better sense of who they'll be working with
Greater outreach with potential candidates through social media platforms
For business majors contemplating a career in the insurance business, there are many options. For example, they can work as risk analysts helping to examine the potential risks associated with providing insurance to a wide range of clients, brokers or agents who provide risk management counseling, or underwriters helping clients determine the amount of coverage they'll need and how much it would cost.
William Woods University students earning a Bachelor of Science in Business Administration, including those concentrating in entrepreneurial management will take BUS231 – Risk Management and Insurance. This course is an introductory study of handling personal and business risk through various basic risk management strategies. Students will learn about the fundamental concepts of social, private and public insurance programs, including life, health, homeowners and auto insurance.