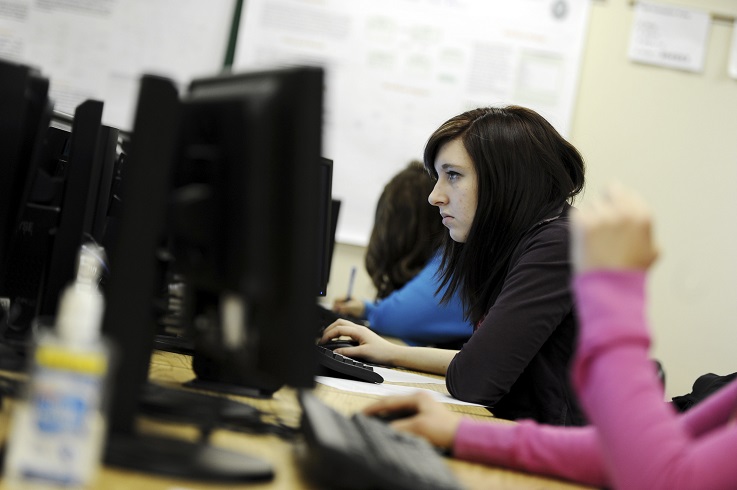 If you're pursuing a degree in Management Information Systems (MIS), you will one day sit at the intersection of business and technology where big questions are asked about how to improve product sales, expand brand awareness or boost efficiency of an organization or a business.
Unlike some of the other technology related degrees, such as Computer Science or Information Technology, the MIS field has to do with a much larger infrastructure that informs business decision-making, and as such plays a critical role in supporting business strategy.
So what can you do with a bachelor's degree in Management Information Systems?
Here are five common job titles and corresponding salary data from the Bureau of Labor Statistics.
Computer System Analyst: Computer system analysts aim to understand an organization's needs and limitations through use of technology and then research and implement efficient and effective ways to run the overall computer system.
Median annual salary: $85,800
Projected job growth: 21 percent (much faster than average)
Database Administrator: Database administrators help enable safe and secure collection, storage, organization and management of data through use of specialized software. This collection of data allows business intelligence analysts to conduct insightful analysis that can inform business decisions.
Median annual salary: $81,710
Projected job growth: 11 percent (faster than average)
Network Administrator: Computer networks are critical parts of every organization. From LANs, WANs and intranets, network administrators are responsible for maintaining a computer network of an organization. This includes implementing network software and hardware updates, resolving or troubleshooting performance issues and administering network security measures.
Median annual salary: $77,810
Projected job growth: 8 percent (as fast as average)
Software Developer: Software developers develop computer programs and applications to aid users in completing specific tasks. In the context of MIS, this may include operating systems-level software and network distribution software that play a critical role in running a business or an organization.
Median annual salary: $100,690
Projected job growth: 17 percent (much faster than average)
Web Developer: A website is a way for businesses to market their offerings and communicate with customers online. Web developers create websites from a design and technical perspective. Their knowledge of code in programming languages such as HTML and CSS enables them to develop website designs and various tools or interfaces that allow users and web administrators to navigate the site more easily.
Median annual salary: $64,970
Projected job growth: 27 percent (much faster than average)
At William Woods University, students can earn a Bachelor of Science in Management Information Systems by completing 122 distinct credit hours. The program curriculum is designed to provide a balanced approach to teaching both business and technology concepts. The program includes courses such as MIS225 Database Management Systems, MIS325 Website Development and MIS425 Enterprise Collaboration Software.